2KW power solar charging station with Flexible solar panel tracking system 2FPS035 model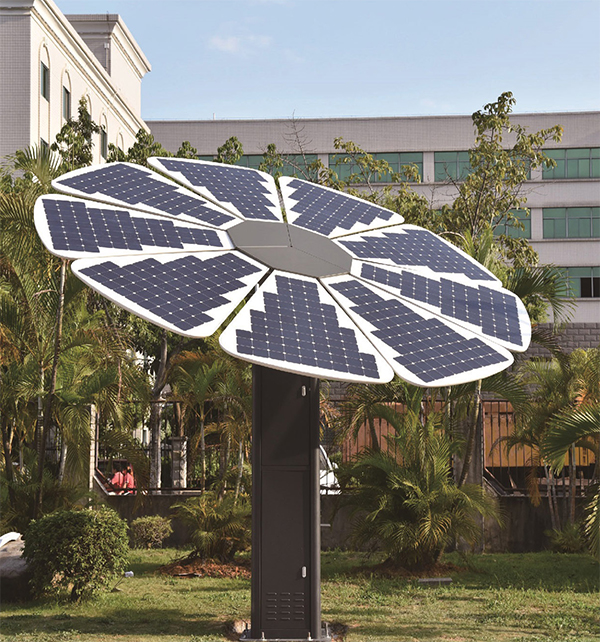 SUN TRACKING SOLAR POLE SYSTEM ADVANTAGE:
this product sun tracking system design of solar power supply system. it gathers solar power generation, energy storage, inverter, tracking control in one which can be used to supply long-term power for small and medium-size electrical equipments in scenic sites, park, villages, barracks, outposts, communications base stations and other places.
SUN TRACKING SOLAR POLE SYSTEM FEATURE:
In addition to the traditional distributed solar power station of safe, reliable, long life, no energy consumption, no pollution etc, they also have the follow characteristics:
novel and beautiful model,use Sun tracking design, combined with color matching, and the use of new manufacturing process, so that product is complete different from the traditional PV power plant of blunt,  make it easy for the photovoltaic power station to join the public life;
High power generation efficiency use flexible monocrystalline silicon solar panel, the conversion rate is up to 25%, with smart tracking function, the power generation efficiency is 40% higher than the traditional glass encapsulation solar PV system;
small occupancy. as a result of the tree structure, the entired product covers an area of less than 1 square meter, circularsolar leaves provide shadow for the publilc to rest;
easy installation. as the main rod integrate cabinet, battery cabinet, solar bracket, the number of product components are greatly reduced, the entire product only need an installation base, greatly reducing the installation workload;
on grid solar system expansion. if need, it can be designed to be on grid power generation and directly join to the grid, to achieve a larger power supply appliations, you can also include the romote monitoring function, to achieve intelligent operational management network.
2KW SUN  TRACKING SOLAR POLE SPECIFICATIONS:
Flexible solar panels

Solar panel type

US SUNPOWER flexible solar cells

Total solar power

2KW, 9pcs solar leaves

monolithic solar panel

216w/40V/5.4A, fleixble solar panel combined with FRP(glass fiber materials)

panel combination

3 groups in series and 3 groups in Parallel

Power output

inverter output

3000VA, AV110V/60HZ or AC230V50HZ

DC Output

DC5V/1A(4A max)

Dimension and Weight

Total Weight

1130KGS

Total Height

4.8m(45 degree inclination)

Disc Diameter

4.6m

Solar Tracking

Tracking/Control type

Vertical single axis, leaning type time control

Azimuth range

+/- 90 degree(Automotive)

Pitch angle range

0 degree to 45 degree(four levels upon installtion)

Tracking power consumption

<10Wh/day

Battery

Battery capacity

48V/200Ah

Battery type

Gel battery

Battery specification

12V/200AH*4pcs

Environmental  Adaptability

Working temperature

-40 degree to 60 degree

Protection degree

IP24

Anti-Salt spray

can withstand salt corrosion in coastal areas
 Sun tracking solar panel base picture:
 Sun tracking solar panel front side picture:
 Sun tracking charger display: